The modern industry of indoor skydiving is sweeping the nation. Vertical wind tunnels have enabled us to simulate skydiving without having to jump from a plane. Skydivers understand the idea because of the close relation to the sport. However to most of the population, the concept of flying your body in a wind tunnel is foreign.
How does indoor skydiving compare to jumping out of an airplane? Simply stated, indoor skydiving is simulating the freefall portion of a skydive. Participants learn to fly their bodies on a column of air which is synthetically produced inside a confined area. There are a number of similarities and differences between traditional skydiving and indoor skydiving.
Similarities
"Does it feel like the real skydiving?" This question is often asked when people new to skydiving inquire about indoor skydiving. The answer is both yes and no, indoor skydiving feels like the freefall portion of a traditional skydive and the body control is the same. The thrill of jumping from an airplane, however, can't be experienced without actually doing it! A traditional freefall portion of a skydive typical lasts between 45 and 60 seconds. Skydiving simulators have developed a way to take that same sensation and incorporate it into an indoor setting – without the time constraints. Just as skydiving, indoor facilities produce high-speed winds that allow participants to safely fly on a column of air.
Indoor Skydiving Influence on Skydiving
Indoor skydiving has revolutionized the sport of (outdoor) skydiving. As stated above, traditional freefall typically lasts anywhere from 45-60 seconds (this number can increase and decrease depending on the altitude in which the jumpers are exiting, and the chosen body orientation- see progression article for more information on avenues of flight). Tunnels now allow skydivers to focus on their flying skills in a smaller area for longer periods of time. Now what used to take jumpers tens of thousands of jumps and years of experience, can be learned in a fraction of that time. Skydivers are no longer limited to 60-second intervals/working time, they are able to fly for much longer. 10 minutes, 30 minutes, or even hours in one day if desired! Each minute flown is equivalent to a single skydive, you do the math! This is has been a phenomenal addition to the progression and future of this sport. Teams can now train for skydiving competitions and records for a fraction of the cost it would be to train in the sky. While wind tunnels significantly increase the talent of skydiver's body flight – it does not train them to be more aware in the sky. Nor does it teach certain fundamental necessities that are required to be a safe skydiver such as canopy skills. Outdoor skydiving schools are still very much needed to train students on certain aspects of traditional skydiving.
With Virginia Beach being one of Virginia's largest cities, there are all types of activity's in the area. Of course the beach is the primary attraction where tourist flock to, but VA Beach has much more to offer.
The one thing you cant do in Virginia Beach is make a Tandem Skydive. No Limits Skydiving is the closest drop zone to the beach. Our West Point location is a easy drive down Interstate 64.  Being open 7 days a week we are the place to go for anyone who wants to try jumping from a perfectly good airplane. The staff of No Limits Skydiving is very familiar with VA beach. The owner was stationed in Norfolk for 4 years while serving in the US NAVY. While he was in the NAVY he spent a lot of his free time at the beach. When No Limits Skydiving was looking for a second location in Virginia, we concentrated on the Virginia Beach area. We searched for the airport closest to the beach, with a great view, and short driving distance. Skydiving at a airport in Virginia Beach would not be allowed due to flight restrictions around Norfolk and Newport News Airports. The FAA restricts certain air activity's close to major airports. So No Limits Skydiving found the airport with the best possible views while in free fall, and is the shortest distance from Virginia beach. We found this skydiving location at West Point VA.
We have fixed up our office at West Point to make sure you have the best time possible. We  have everything from TV to Video Game systems to play while you fill out paper work.  Making a skydiving at West Point with No Limits Skydiving will put you in good company. West Point is one the first airports on the East Coast that had a skydiving club. So skydiving has been taking place here near VA Beach since the 70's.  No Limits Skydiving continues that tradition of skydiving for people in Virginia Beach. The summer only last a few months but you can skydive near Virginia beach all year long. We hope to see you soon for your first Tandem Skydive soon.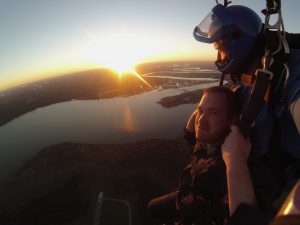 I have been involved with skydiving for 26 years. My first jump was at the age of 20 while in the military. Many years since that first jump, 26 years to be exact, I still remember that first skydive.
The anticipation of my first skydive kept me awake all night. Of course, as soon as I woke up I was super excited. My main concern was being concerned about how I would perform. Skydiving was a bit different when I started,  most jumps were Static Line Skydives instead of Tandem Jumps.  Tandem Skydiving is a much better way to make your first skydive. You are attached to a certified instructor with thousands of jumps. With Tandems you are able to relax and allow the experienced instructor handle the skydive while you soak up the experience.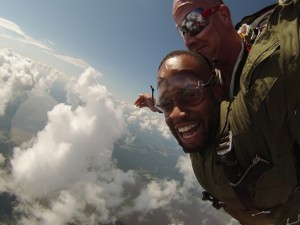 For days before my first skydive all I could think of was the jump. It was really the only thing I thought of for awhile. On the day of my skydive everything seemed to happen so fast. Before I knew it I was out the door in the blue sky. I was immediately hooked… I knew right then that jumping from perfectly good airplanes would be a part of my life. Little did I know I would end up owning a few skydiving business's. After leaving the military all I knew was I wanted to earn my living by skydiving. Thankfully there are enough people who want to feel what their first skydive will be like – that keeps us in business.
Everyone's first jump will be special to them. There is something exciting and strange about stepping out of a working airplane. A tandem is the best way to make your first skydive. It is the simplest way to experience free fall with the least amount of training. When making your first jump at No Limits Skydiving, your starting time will only be around 5 minutes. Your job is to relax and enjoy your jump. You are attached to one of our instructors who will handle your skydive.
The best part of our job is watching your reaction during your first skydive. It never gets old watching someones face light up as soon as the parachute is deployed. People clap and scream and holler and every reaction you can think of.
We would love to be a part of your first skydive. Please join No Limits Skydiving up in the air soon for your adventure.