In writing these blogs about "Skydiving in VA", I try to answer questions that we are most frequently asked. This is one question that we receive quite often.  Most people are going to make one skydive as a bucket list item so they want the best experience possible.
The answer to "When is The Best Time of Day to Skydive in Virginia?" really depends on the season of the year.
In the months of February and March, I usually will inform people that mid afternoon is the best time of the day. These months tend to be colder so jumping during the peak warm hours of mid-afternoon is the best time.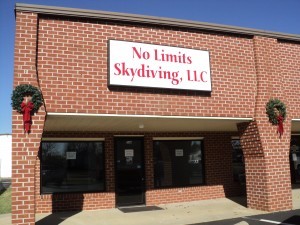 In Spring time really anytime of the day works well. The weather is nice and comfortable all day. Our sunset skydive is very popular during this season.
Summer time is of course our busiest time of the year. With the warmer temperatures in the morning it is really the best time to arrive for your Tandem Skydive. The summer time in Virginia has a high prevalence of thunder storms late afternoon. These storms will come through and last an hour and then the skies will clear right back up. When thunder storms are in the area we will pause skydiving operations till the weather is clear again. This really only take a hour or so and we are right back in the sky making jumps. Our Sunset Skydives are also super popular this time of the year. The sunset jumps are by far are most desired and they really get booked up all year except for the colder months.
So now its fall time which is my favorite time of the year to skydive. The sky is super clear with no summer haze and the later day jumps are simply amazing. When the leaves change colors and the sun reflects off the trees in full color, the view is something to see! Once again sunset skydiving is the most desired.
You can ask forty different professional skydivers this questions and will probably get 40 different answers.  I have tried to give some reasons why I think certain times to skydive are better then others. The summer and autumn are our busiest time. Please make a reservation online or by calling 434-532-6570.
Whichever time of the day works best for you, we hope to take you on your first skydive over some amazing scenery in Virginia.
Skydiving is one of those bucket list items that is on most peoples list. When you do make your first skydive, you of course want it videoed along with pictures ,so you can relive the moment for years to come. One of the questions we are asked the most is, "can I bring my own Go-Pro." The short answer to this no.
No Limits skydiving is a group member of the United States Parachute Association. This organization is recognized by the F.A.A  as the premier skydiving safety organization in the United States. The U.S.P.A. has stated that only skydivers with a C License may exit an airplane with a camera attached to them. This is for safety reasons. Skydiving has many variables that can happen and for the ultimate safety only highly trained professional skydivers are allowed to jump with cameras.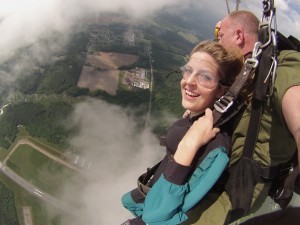 We do offer pictures and videos for purchase. Please look at our web site for pricing info. You will receive your videos and pictures that day right after your skydive. We put all you photos and video on a flash drive and you will leave the office that day with them. The pictures consists of around 100 photo's. Your video last from the time in the plane all the way until you land. We even video you under canopy as we float down.
Please bring a camera or your phone for pics in the office getting dressed or getting in the plane. we of course let you take all kind of pictures with your friends dressed in your jump suits and gear ready for your tandem skydive.
When it comes to photos and video during the actual skydive, leave it to the professionals. We will make sure your pics and video are something that you will love. Something to remember what you accomplished and to show your friends. We hope you make your skydive in Virginia with No Limits Skydiving.
No Limits Skydiving has been a part of many special skydives. We have been a part of wedding proposals, military re-enlistments, and even spreading the ashes of a loved one.
We really enjoy being a part of moments like these in peoples lives and helping them make their skydive even more special. With wedding proposals the couple will be in the plane with the person doing the asking jumping first. Their significant other will leave the airplane a minute or two later. This gives the person doing the asking time to land and place a large banner on the ground asking "Will you marry me?"  It makes for a great video when flying under parachute the person is able to read the banner. Their reaction is priceless. So far everyone asked has said yes!
We have been a part of a few military re-enlistments. The owner of No Limits Skydiving is ex-military so he really enjoys these. We had two brothers who both our in the military, in the plane together. One brother gave the re-enlistment swearing in for his younger brother. Then they both skydived attached to our instructors. How cool is it to be apart of things like this.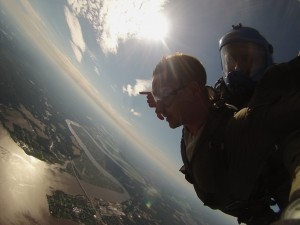 We have also spread ashes for people who have lost a love one. We take that person on a skydive and after our parachute is deployed they are able to spread their loved ones ashes while under canopy.
We do many sunset skydives. Skydiving is on most peoples bucket list and they want their jump to be as special as possible. The view at our West Point location is amazing as the sun sets. The sun lights the rivers up for an amazing view!!
Whatever your event or special occasion we hope to see you at No Limits Skydiving for your skydiving in Virginia soon.