Skydiving in Virginia
No Limits Skydiving has two locations in Virginia.  Our location in West Point is the closest Skydiving School to Norfolk VA. We are a easy drive right down 64 to the drop zone. Norfolk VA is the home to the worlds largest NAVY Base so there is big military presence in the area. We get many service members who come to No Limits Skydiving for their first skydive.
The owner of No Limits Skydiving is veteran of the U.S. Navy and was stationed in Norfolk, Virginia during his service. He served on the Aircraft Carrier USS America CV-66, which was located on Pier 12 when in port.  Most of our staff are ex-military and we make sure service members have a great time skydiving. We offer discounts for U.S. Military, for their skydive, and their video or pictures.
People who enlist in the military are usually adventure seekers so skydiving is a natural fit for them.  We also realize that being in the military is not a regular 9 to 5 job, and your days off are not always the weekends. No Limits Skydiving is open 7 days a week so we are ready to jump when you are.
How to Prepare for Your Jump
When planning your day of skydiving you should allow for 2 to 3 hours for your jump. Once you arrive there is a short training session where we show you exactly what will take place during your jump. Let them know if you want to pull the rip cord. If you don't, that is no problem also. Just keep your eyes open and enjoy the free fall. After the training we will get you suited up and head to the airplane. You will be with your instructor the entire time. The plane ride to jump altitude is about 15 minutes. You will be attached securely to your jump master before the door opens. You will exit the plane attached so you can take in great views during your free fall while your instructor handles everything.
Your job is to relax…yes..relax! After you leave the airplane your nerves will disappear and the fun begins. Your instructor will deploy the parachute after about 50 seconds of free fall. The parachute ride is 5 minutes and you will land right back at the same airport you took off from. Your video and pictures will be ready in 10 minutes after your skydive.  You only have to worry if you get hooked to the sport and want to come back the next day for jump number two.
If you live in Norfolk and want to experience skydiving then give us a call and make your reservation at No Limits Skydiving.
Choose No Limits Skydiving for Your First Jump!
So you have decided to make the big plunge..your going to sign up for your first Tandem Skydive. Tandem Skydiving is by far the safest and easiest method to make your first skydive. Tandem Skydiving was developed in the late 80′s as a way to introduce people to the sport of parachuting while attached to experienced instructors. By the early 90′s it had replaced almost all other methods of training and introduction into skydiving.  It has developed into a great and safe way to allow people to experience free-fall and jumping from a perfectly good airplane.
With a Tandem Skydive you are attached to a United States Parachute Association Certified Instructor. The United States Parachute Association is a organization that sets rules and regulations for all forms of skydiving. They set minimum safety standards that all drop zones and instructors must follow.  No Limits Skydiving is a member of this organization and has been since we opened our doors.
Experience Tandem Skydiving
When making a Tandem Skydive you really are able to relax and enjoy the experience knowing you are safely attached to a skydiver with thousands of jumps. At No Limits Skydiving our most junior instructor has over 5,000 skydives. One of Tandem Masters has over 14,000 jumps.  Yes….14,000.  We take thousands of people on their first skydive each year at No Limits. Most people are very nervous and we specialize in making people feel comfortable. We only take first time students so we make it our business to make sure you have a good time and can relax during your experience. This is our total business..taking people on their first jump. We make it our goal to make sure you have the best possible skydive.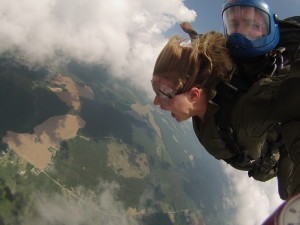 When that door opens and you and your instructor take that first step out of a perfectly good airplane, you can enjoy every second of it knowing you are in good hands. Your instructor will handle everything, all the way to landing. If you would like to pull the ripcord, let him know. We will train you to pull the ripcord to open the parachute if you would like. If you don't that is fine also, leave it to your Tandem Master and just enjoy the sensation of free-fall.
Once the parachute is deployed your Tandem Instructor will be able to talk to you like normal and show you all the different sites to see. At our West Point location you can see the Yorktown and Rapahhanock River. You also can see the Chesapeake Bay.  In Victoria they will show you the Mountains and Lake Gaston which borders VA/NC.
When you are ready to give skydiving a try make sure you choose a Tandem Skydive as your first jump. It is the safest and easiest way to enjoy the thrill that is skydiving! Please call us at anytime with any questions, and we hope to see you at No Limits Skydiving soon.
Skydiving Memories to Last a Lifetime
So you finally decided to have the adventure of a lifetime and make you first Tandem Skydive. Jumping from a perfectly good airplane is something many people think about doing, but only a small percentage actually follow thru and make that plunge. Those that do decide to make a skydive will have a lifetime experience that they will never forget.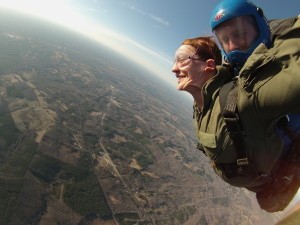 Making a Tandem Skydive in Virginia is something that you will remember for the rest of your life.  Experiences are what makes life the adventure it should be, and skydiving is on most peoples bucket list.  So make sure you make the most of it and have your skydive experience captured with pics and video.
There is so much going thru a persons mind when the door on a airplane opens up and they are preparing to jump. Most people have a type of sensory overload where it is hard to remember everything that just happened. The door is open, wind is pouring in, your instructor is telling you what to do,  ready…set…go…you out the door, flipping out the plane and upside down for a minute wheeeeeeee.  You have to get your first skydive videoed or have pictures taken.
Choose Between Pictures, Videos or Both!
When you arrive at No Limits Skydiving Office just let the manifest person know which you would like. The price for video or pictures is $60. If you would like both the price is only a additional $25. We video and take pics of your entire skydive. From the minute you climb in the plane till you land back on earth we film your dive. We use Go-Pro's to film and take pictures.
The pictures of when you first leave the plane are my favorite. Many times we can get a picture of us falling away from the plane with a big smile on our face. Makes for a great picture with the plane in the background. Another great footage of your skydive is after the parachute opens, we continue to video and take pictures.  Being under the parachute with the colors of the parachute and the person smiling is another favorite of mine. As great as the pictures are of being in free fall, the pictures under canopy are also amazing!! Many of our skydivers have posters made of their favorite skydiving picture.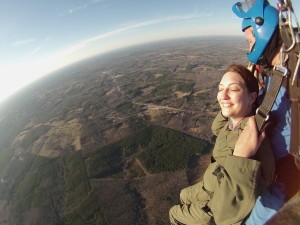 After your Tandem Skydive we return back the office to get put all the gear up and go over the skydive. We put all the footage of your jump on a flash drive and hand it to you that day.  It only takes us about 10 minutes to have your Certificate of Achievement and the flash drive containing all the footage in your hand.
We know how special your day is to you and we hope to provide you with the best experience possible, along with some great video and pictures of your Tandem Skydive in Virginia
.