Does bad weather affect skydiving?
One of the questions we hear most often is do we cancel a Tandem Skydive if the weather is bad.  The short answer to that question is yes. Skydiving is the adventure of a lifetime but there are some weather conditions we will not skydive in.
Low Clouds & Drizzling Rain
The easy answer I give customers is if it is a "Winnie the Pooh Day" then we will cancel for the entire day. A Winnie the Pooh Day is a day of low clouds and drizzling rain all day. The kind of day where you sit on the couch and watch movies. Bad weather days like that, we call customers early in the morning and let them know we wont be skydiving that day. You then have the option of choosing another date to schedule your jump.
Windy Days
We also can cancel Tandem Skydives for really windy days. When winds get to around 18mph we will go on a weather hold. That means we call the students and give you the choice to come out and wait till the winds get slower or you can chose another day. On windy days the wind usually gets slower later in the afternoon, so we are able to take customers later in the day.
Thunderstorms
The summer time the weather almost always calls for thunderstorms. We do not cancel skydiving for thunderstorms. In the middle of summer, thunder storms are frequent and usually happen later in the day. So we will skydive all day and if storms due appear, we will stop all operations till the weather is good again. This sometimes can take a hour or so.  Sometimes of course once the storms start it does not clear up, but that usually is not the case.
Cold Weather
In colder weather we of course dress for the skydive. We have evrything you need for your jump. This includes a jumpsuit and gloves. We recommend you to wear whatever clothes you want for the weather that day. We are going to give you a jumpsuit to go over your regular clothes.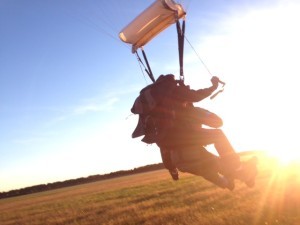 We are always available by phone if you have any questions about your skydive. Skydiving is super dee duper fun and we hope you choose No Limits Skydiving for your adventure.
Give them a present they'll never forget!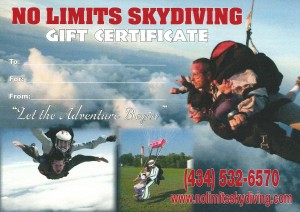 There is no better gift than the gift of adventure! When looking for that special item for someone, you should consider an activity, instead of an item. Skydiving is on most bucket lists, and would make an fantastic and unforgettable present.
No Limits Skydiving makes purchasing and using a gift certificate very simple.  You may order your skydiving certificate by calling us at 434-532-6570, or through emailing us at nolimitsskydiving@gmail.com. Most people do have a lot of questions, and we love to answer them. Do not hesitate to call us with your questions or order.
The price for our skydiving gift certificate is $215. This price covers everything; there are no hidden charges once they arrive to redeem their certificate. Once you have made your purchase, we will have your certificate in the mail that day. We can also email you a copy. We have 2 skydiving locations in Virginia and you can use it at either dropzone. The gift card recipient can simply call us to let us know which location they would like to use, and the time that they want to arrive. We'll be there to show them the time of their lives!!
The holiday season will be here soon, and everyone will be looking for the perfect gift for their loved one. We hope you consider the gift of adventure from No Limits Skydiving.
When is the best season to make a skydive?
Wanting to make a Tandem Skydive in Virginia? We skydive at No Limits Skydiving all year, in all 4 seasons. Yes..we even jump during the winter. We shut down in the month of Jan so we can get all ready for the next year, but we open back up in Feb. I get asked all the time what is the best time of year to make my first Tandem Skydive.  If you ask 4 skydivers you will probably get 4 different answers. Let me go over a few highlights of making your jump in each season.
Winter Skydiving
The winter is our slowest time of year but it does offer a different view of earth that can be quite amazing. I have even skydived when there is snow on the ground. Everyone wants to know about the cold but we always dress for the jump. So of course we put extra clothes including gloves so your skydive is comfortable.  It is an interesting perspective to see earth during the winter time from above.
Spring Skydiving
Spring Time is a time of earth waking up and shaking off winter. Seeing patches of green dot the landscape once again makes Spring Time a favorite of many people.  Those days in the spring when you can just wear a T-shirt under your jumpsuit makes everyone smile. Everyone is heading back outdoors, so its alot of people choice to make their skydive.
Summer Skydiving
Summer Time is our busiest time of the year. In our West Point location we skydive right beside the Yorktown River. You can also see the Chesapeake Bay during freefall. I love watching all the boats on the river. They will line up right off shore to watch us skydive since we are so close to the river. I always wonder what the people on the boats are thinking about the people under parachutes.
Fall Skydiving
The Fall Time is MY favorite time. Our Victoria location has such amazing views when the leaves change colors. Many of our students will ask to open the parachute higher so they have more time to see the sights. I love this time of year. The air is a little crisp and you can see all the way to the horizon. The leaves are every color and when the sun hits them at the right angle the whole ground seems to light up.
Come join No Limits Skydiving no matter the time of year you choose, and have the adventure of a lifetime!