What kind of equipment is used on a tandem skydive?
There are many different companies who supply skydiving equipment for military and civilian use. No Limits Skydiving has chosen Strong Enterprises to provide us with the best skydiving gear possible.
Strong Enterprises was started by Ted Strong in the 1960′s. It is now the leader in Tandem Skydiving Technology with its operation based out of Orlando FL.
No Limits Skydiving has been using Strong Enterprises Tandem Equipment since we opened our doors. Safety comes first with any skydiving operation and when we step out of perfectly good airplanes, we want the best systems on our backs.
The Drogue
Tandem Skydiving is a little different than solo skydiving. With Tandem Skydiving there are two people using one parachute. So of course the equipment is designed to handle the stress of two people versus one skydiver. With the weight of two people in freefall attached and still the same wind surface resistance, there is the need for a drogue to slow the fall rate down. The drogue is the smaller parachute that is used for additional resistance, and is attached to the main parachute. The normal speed of a single skydiver is 120mph, with the use of a drogue a Tandem Skydiving Pair will also fall 120mph.
The Passenger Harness
Another major component of Tandem Skydiving is the passenger harness. This harness connects the student to the instructor during freefall and the parachute ride down. This harness has 4 attachment points where you are connected. There are two on the shoulder and two on the hips. This fully secures you to the instructor and there is no way to release you until you are back safely on the ground. Each one of the shoulder connection points are rated for 2,500 lbs. That is how much weight these harnesses can handle.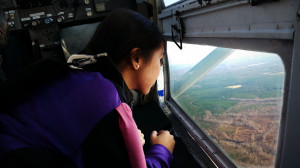 With Tandem Skydiving you are securely attached to our instructors. This way you can relax and enjoy your adventure. Our skydive instructors can relax knowing we use the leading skydiving manufacturer for our equipment. When you decide to make a Tandem Skydive in Virginia we hope you choose No Limits Skydiving.
Does bad weather affect skydiving?
One of the questions we hear most often is do we cancel a Tandem Skydive if the weather is bad.  The short answer to that question is yes. Skydiving is the adventure of a lifetime but there are some weather conditions we will not skydive in.
Low Clouds & Drizzling Rain
The easy answer I give customers is if it is a "Winnie the Pooh Day" then we will cancel for the entire day. A Winnie the Pooh Day is a day of low clouds and drizzling rain all day. The kind of day where you sit on the couch and watch movies. Bad weather days like that, we call customers early in the morning and let them know we wont be skydiving that day. You then have the option of choosing another date to schedule your jump.
Windy Days
We also can cancel Tandem Skydives for really windy days. When winds get to around 18mph we will go on a weather hold. That means we call the students and give you the choice to come out and wait till the winds get slower or you can chose another day. On windy days the wind usually gets slower later in the afternoon, so we are able to take customers later in the day.
Thunderstorms
The summer time the weather almost always calls for thunderstorms. We do not cancel skydiving for thunderstorms. In the middle of summer, thunder storms are frequent and usually happen later in the day. So we will skydive all day and if storms due appear, we will stop all operations till the weather is good again. This sometimes can take a hour or so.  Sometimes of course once the storms start it does not clear up, but that usually is not the case.
Cold Weather
In colder weather we of course dress for the skydive. We have evrything you need for your jump. This includes a jumpsuit and gloves. We recommend you to wear whatever clothes you want for the weather that day. We are going to give you a jumpsuit to go over your regular clothes.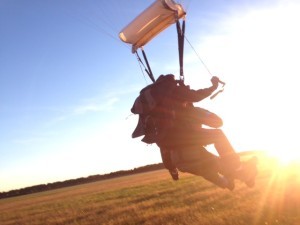 We are always available by phone if you have any questions about your skydive. Skydiving is super dee duper fun and we hope you choose No Limits Skydiving for your adventure.
Give them a present they'll never forget!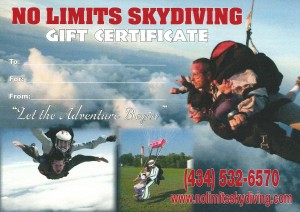 There is no better gift than the gift of adventure! When looking for that special item for someone, you should consider an activity, instead of an item. Skydiving is on most bucket lists, and would make an fantastic and unforgettable present.
No Limits Skydiving makes purchasing and using a gift certificate very simple.  You may order your skydiving certificate by calling us at 434-532-6570, or through emailing us at nolimitsskydiving@gmail.com. Most people do have a lot of questions, and we love to answer them. Do not hesitate to call us with your questions or order.
The price for our skydiving gift certificate is $215. This price covers everything; there are no hidden charges once they arrive to redeem their certificate. Once you have made your purchase, we will have your certificate in the mail that day. We can also email you a copy. We have 2 skydiving locations in Virginia and you can use it at either dropzone. The gift card recipient can simply call us to let us know which location they would like to use, and the time that they want to arrive. We'll be there to show them the time of their lives!!
The holiday season will be here soon, and everyone will be looking for the perfect gift for their loved one. We hope you consider the gift of adventure from No Limits Skydiving.