I have been involved with skydiving for 26 years. My first jump was at the age of 20 while in the military. Many years since that first jump, 26 years to be exact, I still remember that first skydive.
The anticipation of my first skydive kept me awake all night. Of course, as soon as I woke up I was super excited. My main concern was being concerned about how I would perform. Skydiving was a bit different when I started,  most jumps were Static Line Skydives instead of Tandem Jumps.  Tandem Skydiving is a much better way to make your first skydive. You are attached to a certified instructor with thousands of jumps. With Tandems you are able to relax and allow the experienced instructor handle the skydive while you soak up the experience.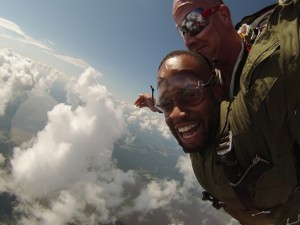 For days before my first skydive all I could think of was the jump. It was really the only thing I thought of for awhile. On the day of my skydive everything seemed to happen so fast. Before I knew it I was out the door in the blue sky. I was immediately hooked… I knew right then that jumping from perfectly good airplanes would be a part of my life. Little did I know I would end up owning a few skydiving business's. After leaving the military all I knew was I wanted to earn my living by skydiving. Thankfully there are enough people who want to feel what their first skydive will be like – that keeps us in business.
Everyone's first jump will be special to them. There is something exciting and strange about stepping out of a working airplane. A tandem is the best way to make your first skydive. It is the simplest way to experience free fall with the least amount of training. When making your first jump at No Limits Skydiving, your starting time will only be around 5 minutes. Your job is to relax and enjoy your jump. You are attached to one of our instructors who will handle your skydive.
The best part of our job is watching your reaction during your first skydive. It never gets old watching someones face light up as soon as the parachute is deployed. People clap and scream and holler and every reaction you can think of.
We would love to be a part of your first skydive. Please join No Limits Skydiving up in the air soon for your adventure.
How Much Does it Cost to go Tandem Skydiving?
This is a question we hear all the time. The average price for skydiving runs about $250 all over the country including Virginia. To make a Tandem Skydive with No Limits Skydiving it is only $220. We are the lowest priced skydiving center in Virginia. We have accomplished this by using a few different methods. First we have two locations in Virginia that you can choose from. We are only a two hour drive from anywhere in the state to one of our locations. We are also open seven days a week. These two factors allows us to take many more customers then other drop zones. More customers means we can keep our price slightly lower. No Limits Skydiving also is the only skydiving school in Virginia that specializes in First Time Skydivers. Since we don't have to cater to other licensed skydivers we can focus all our efforts on Tandem Skydiving. This also allows us to pass these savings to our customers.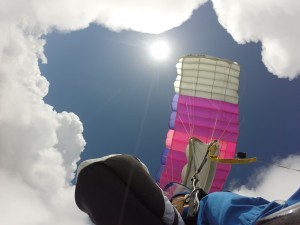 Skydiving is generally around $250 and some places is even higher.  Skydiving is so much fun but it is a high cost ticket item. To keep skydiving safe there are certain costs, so to make a safe skydive plan on spending around $200. We do have specials for military and birthdays. Please take a look at our pricing page for these savings.
Skydiving is one of those adventures everyone wants to try at least once. We hope you break into your piggy bank and join No Limits Skydiving for your adventure soon.
In writing these blogs about "Skydiving in VA", I try to answer questions that we are most frequently asked. This is one question that we receive quite often.  Most people are going to make one skydive as a bucket list item so they want the best experience possible.
The answer to "When is The Best Time of Day to Skydive in Virginia?" really depends on the season of the year.
In the months of February and March, I usually will inform people that mid afternoon is the best time of the day. These months tend to be colder so jumping during the peak warm hours of mid-afternoon is the best time.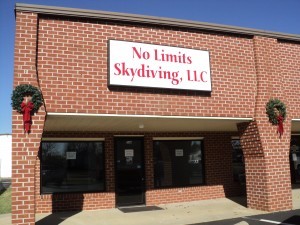 In Spring time really anytime of the day works well. The weather is nice and comfortable all day. Our sunset skydive is very popular during this season.
Summer time is of course our busiest time of the year. With the warmer temperatures in the morning it is really the best time to arrive for your Tandem Skydive. The summer time in Virginia has a high prevalence of thunder storms late afternoon. These storms will come through and last an hour and then the skies will clear right back up. When thunder storms are in the area we will pause skydiving operations till the weather is clear again. This really only take a hour or so and we are right back in the sky making jumps. Our Sunset Skydives are also super popular this time of the year. The sunset jumps are by far are most desired and they really get booked up all year except for the colder months.
So now its fall time which is my favorite time of the year to skydive. The sky is super clear with no summer haze and the later day jumps are simply amazing. When the leaves change colors and the sun reflects off the trees in full color, the view is something to see! Once again sunset skydiving is the most desired.
You can ask forty different professional skydivers this questions and will probably get 40 different answers.  I have tried to give some reasons why I think certain times to skydive are better then others. The summer and autumn are our busiest time. Please make a reservation online or by calling 434-532-6570.
Whichever time of the day works best for you, we hope to take you on your first skydive over some amazing scenery in Virginia.