Group Tandem Skydiving in Virginia
No Limits Skydiving offers discount prices for groups of 4 or more people who make a Tandem Skydive at either of our locations. Our normal price is $215 for jump and $60 for video or pics. When you have a party of at least 4, the price drops to $205 for each persons skydive and only $50 for video or pics.  The owner of No Limits Skydiving is ex-military so current and retired military always receive a discount off their jump and video. When you arrive at our office and before your jump show them your US Military ID for a discount off your Tandem Skydive and pics.
Specials & Rewards Program
At No Limits Skydiving we also have a special reward program for all of our customers. Once you have made a skydive with us, we offer you the chance to make a second jump for free…..yes..free.  After your first skydive with us, bring 5 of your friends to make a skydive with us and your jump will be for free! The only thing better then skydiving is a free skydive. We also offer discounts for birthday's. Come make your Tandem Skydive in Virginia the week of your special day and receive a discount.
Call us to Make a Reservation
We know most people want to try skydiving at least once, and what better way then to bring some friends to enjoy the adventure with you. Plus there is the added benefit of each of you paying less for your jump. When you call to make your reservation just let us know which location, the time you want to arrive, and how many is in your group.  We will ask for your credit card info to hold your reservation. If you cancel or do not show for your scheduled skydive, then there is a $50 charge. Wear comfortable clothes and make sure you bring tennis shoes, or sneakers. No big boots or high heels while jumping from airplanes. Once you arrive, then each person will be able to pay separately for their jump. We take Visa and MasterCard for payment.
There is no better adventure then jumping from a perfectly good airplane. So no matter if you come alone or bring some people to join you in the fun, we hope you choose No Limits Skydiving for your first Tandem Skydive.
Special Event Skydiving Throughout the Country
Demonstration Skydiving or "Demo Skydiving" is where skydivers perform for a audience at special events. These events can be NASCAR Races, Professional Football Games, airshows, or any special activity.  Usually the skydivers will be asked to bring in a American Flag the Game Ball, or some other special item. Many times the skydivers will land in with smoke for special effects. Skydivers landing at a sporting event is a great way to get the crowd fired up for the start.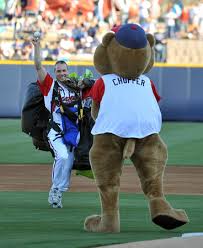 Staff members of No Limits Skydiving are asked to jump into events all over the country. The experience of our instructors is so well known that we receive calls from many sporting teams to land with the American Flag at the beginning of many sport shows. We do a lot in Virginia but we also perform at quite a few out of state. Some of the ones in Virginia we skydive into are the Richmond Flying Squirrels, University of Richmond Football Games, and the NASCAR Race in Richmond. Out of state we have jumped into the NASCAR Races in Bristol TN and in Dover DE.
Skydiving into venues such as these requires a very high level of skill. The United States Parachute Association issues a "Pro Rating" for skydivers who qualify. This rating allows them to skydive into certain size landing areas such as football fields etc. Only around 5% of skydivers reach this level. The owner of No Limits Skydiving has been a member of Aerial Adventures Demos for over 10 years.  He was a founding member of the team and has been a part of many skydiving demos. His favorite has been the skydive into L.S.U. Tiger Stadium in Baton Rouge, Louisiana when they played against VA Tech in front of 96,000 fans. He stated it was the loudest crowd he had ever heard. It is an amazing feeling to be flying into a stadium in front of 96,000 screaming fans.
Skydiving into sporting events is much more difficult then regular skydiving over an airport. There are also many regulations from the FAA you must complete before you are allowed to jump into a crowded stadium. A lot of preparation goes into one of these performances. Paperwork for the FAA, ground crew, gear inspection, and of course making sure the American Flag is clean and ready to make its appearance. When major sporting events choose which team to perform in from of their fans they of course look for which team has the most experience. It is no different then when our customers choose which skydiving school to make their Tandem Skydive with. The owner of No Limits Skydiving is ex military and has over 10,000 skydives. He is right there every day jumping with students and making sure they have the time of their life. He has also hired the most experienced staff for both our locations. Another instructor at No Limits Skydiving has over 14,000 jumps…yes… 14,000.
We hope when you decide which skydiving school in Virginia to make your Tandem Skydive with, you choose No Limits Skydiving. Go with the most experienced and the same people that major sporting events trust. Blue Skies and we hope to see you soon at No Limits Skydiving.
Always Remember Your Tandem Skydiving Adventure
Most people want to try skydiving at least one time. They may have seen a movie that had a skydiving scene in it, or maybe they had a friend who made a jump and they watched their video. If you have ever wanted to try skydiving we hope you choose "No Limits Skydiving" for your first Tandem Skydive in Virginia. On your first skydive we recommend that you get a video of your jump.
When you make your first skydive there is so much to take in, so many new experiences for your senses.  It is hard to remember everything that happened. You get a type of sensory overload that takes some getting used to. Our instructors with thousands of skydives can notice everything that is happening. People on their first skydive get the big picture but miss the smaller details such as if they flipped out of the plane or came straight down.
We Have Go-Pro Cameras to Capture Your Moment
The best way to relive your adventure is by purchasing the video or pics. This way you can watch your skydive again and again at home. No Limits Skydiving uses Go-Pro Camera systems for pictures and video. You can order video or pics for $60, or you can choose to buy both for $85.  We video your entire skydive, everything from getting dressed, taking off in the plane, free fall and even under parachute. We video your entire skydive!
The same with pictures. We get about 100 pictures of you in the plane getting ready to jump, your free fall and pictures under parachute. The pictures of people under parachute really are amazing. Once you land we will have your video and pictures ready in about 10 minutes. We put all your info on a flash drive and give it to you before you leave. So after your skydive you will get a Certificate of Achievement, and the flash-drive with your video and pics on it.
Tandem Skydiving in Virginia
You have to try skydiving!! If you live in Virginia Beach, Hampton Roads, Northern Va, or Richmond then your probably want to go to our West Point location. If you are from Charlottesville, Roanoke, Lynchburg, or Raleigh then our Victoria School is close to you. No matter which location in Virginia you choose, make sure you video your adventure of a lifetime.