Virginia Beach is one of Virginia's Biggest Tourist Destinations
It kind of goes without saying that the biggest attraction is of course the beach. Its kind of hard to beat a day of playing in the waves and laying on the beach soaking up the sun.  When you are ready to do a little exploring you will realize that VA Beach has much more then just the water and surf. Here are a few places you should definitely try to experience the next time you are in  the area.
1 Military Aviation Museum: Of course this would be No Limits Skydiving first choice. Since we love aviation this is always one of our first stops. Kind of hard to love skydiving without aviation. The museum holds the worlds largest collection of WWI and WWII aircraft. My favorite is the vintage P-51D Mustang Fighter plane. They even offer plane rides in a 1941 Boeing Stearman. Please stop by and visit this part of American History.
2. Old Coast Guard Station: This is a special place that specializes in the American Maritime Heritage.  They cover a wide variety of Naval History. Everything from Blackbeard to Shipwrecks. They show how ships traveled the Eastern United States from the early years to the present.
3. Ocean Breeze WaterPark:  We are at the beach so we have to stay with some water sports. Spend the day on water slides, wave pools and rafts in this huge water park. great way to spend the day especially with kids.
4. Sandbridge Fishing Pier: You have to try a day of fishing when at the beach. This pier has been the favorite fishing spot for locals and tourist for years. try your luck and see what the catch of the day is at Sandbridge Pier.
5. No Limits Skydiving: Okay if you are up for something a little more adventurous then try a Tandem Skydive. No Limits Skydiving is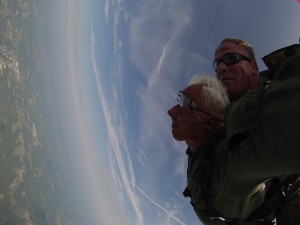 a short drive from VA beach and has been the place for locals to make their first skydive years. Tandem Skydiving is the easiest way to make your first skydive with very little training. If your looking for the best view of the water, its hard to beat the view under one of our parachutes. No Limits Skydiving is open 7 days a week. Call 434-532-6570 for any questions or to make a reservation.
We hope we have given you a few ideas for some different ways to enjoy one of Virginia's best tourist locations.
Skydiving is the one activity that most people want to try at least once. Its one of the biggest items on people's bucket list.  Here are a few reason's why I think you should give it a try.
 Tandem Skydiving: With the invention of Tandem Skydiving, jumping from a perfectly good airplane is easier then ever. During a tandem skydive you are attached to a certified instructor with thousands of skydives.  Your training for a Tandem Skydive is only about 5 minutes.  Your job is to relax and have fun.  You are attached to your instructor from the moment you are on the plane, till you land right back the same airport you took off from. With Tandem Skydiving almost anyone can make a skydive.
Equipment: Skydiving equipment has taken a revolutionary advancement in the last 15 years. The technology has jumped leaps and bounds to where the safety level is amazing. Last year there was 3.2 million skydives made in the United States. With new equipment, especially in Tandem Skydiving, it is a very safe experience when attached to qualified instructors.
 Views: There is simply no better way to view the beauty of earth then making a Tandem Skydive. You will free fall for a minute and the parachute ride is 5 minutes.  No Limits Skydiving has two locations in Virginia. We looked all over the state for the best views possible and we know we found them.  Take a look at the Locations Section of our web site. It will go into detail about both places to make a Tandem Skydive in Virginia. In Virginia we are lucky to have all 4 seasons. There is something new and different to see each season when jumping.
 West Point Location: Skydiving has been taking place in West Point, Virginia since the 1960's. It is one of the oldest locations for skydiving in the United States. No Limits Skydiving continues this tradition of jumping from perfectly good airplanes in West Point, Virginia. Come and be a part of skydiving history by making your skydive where thousands of people made their first jump.
Military: With Virginia being home to many Military Bases, it makes it easy to find great staff. Many people get their start in skydiving while serving in the United States Military.  The owner of No Limits Skydiving is ex-military and most of staff is also ex-military.  It makes for easy hiring and a lot of experience with super qualified people.
I hope I have given you a few reasons you should try skydiving in Virginia. Please contact us anytime you have any questions or want to make a reservation.
Tandem Skydiving Facts
Skydiving is one of the greatest adventures and is one of the main items on peoples bucket lists. I thought it would be interesting to go over some fun and strange facts about skydiving with all of you.
The highest jump was made by Alan Eustace on October 24, 2014. He jumped from a height of 135,890 feet. This jump took place in Roswell, New Mexico. A place also known for many U.F.O. sightings. There has not been a report of Mr Eustace seeing any aliens while in free fall.
Approximately 500,000 people make a skydive each year. That sounds like a lot of people, but when the population of the world is now 7 billion, it is not that many.
There are 332 Skydiving schools in the United States. California has the most schools with a count of 27.
Right now the oldest person to make a skydive is 103 years old and the Tandem Skydive was made in the country of Brazil. It was her second jump. She made her first one at the age of 100.
President George H.W. Bush made a Tandem Skydive for his 90th birthday.
A skydiver by the name of Jay Stokes holds the record for the most amount of skydives made in one day. Mr. Stokes made 640 jumps in one day in 2006.
The most number of jumps made by the owner of No Limits Skydiving in one day is 19.
I hope you found some of these facts about skydiving interesting. What would be even more interesting is experiencing skydiving for yourself. You can do that by making a reservation with No Limits Skydiving for your Tandem Skydive. We hope to see you in the sky with us soon.