Virginia's #1 Choice in Tandem Skydiving
For many, making that first skydive is a lifelong dream. We want to give you a few reasons why No Limits Skydiving can help you fulfill that dream.
Skydiving is the most adrenaline-packed sport that there is. Nothing is more exciting than taking that first step off of the plane. After the parachute is open and you take a deep breath, you'll have a moment to realize what you have just accomplished, and a few minutes to enjoy a breathtaking view. These moments are what fuels our passion. We understand the gut that it takes to make that first jump, and we take every tandem customer seriously, first-timer or not.
Trusted by the Community
No Limits Skydiving™ is proud to help when special events call for skydivers. When the Make a Wish Foundation needed a place for a special person to make a skydive, they chose our demo skydiving team. When sporting events needed skydivers to perform in their opening ceremonies by bringing in the game ball or American Flag, they use our staff. We also perform at 8 NASCAR Races, including the Richmond International Speedway.
So when your are in the stands and you see skydivers landing at the event, you can be proud to say that you made your first skydive with us.
Make your first Tandem Skydive with the staff that even major organizations trust.
Operations that Focus on the Students
100% of our energy is dedicated to students and first time skydivers.
We are the only drop zone in Virginia that operates just for students. Other schools have recreational skydivers that jump at their facilities, but our focus is on the adventurous souls who decide to jump for the first time.
By having a focus on those who are learning, we can make sure that they have the best experience possible by guiding them every step of the way. Our entire drop zone has been designed for you and your friends to enjoy your tandem skydive. At No Limits Skydiving™, we are in business to make sure our students have a fun and safe skydive.
Scenic Locations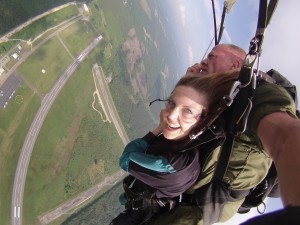 The location of the drop zones were specifically chosen to for their beautiful, natural views. The scene under canopy is breathtaking. To the west of our Victoria, VA airport, there are no man made buildings in sight. The view has all of the natural beauty that Virginia has to offer. Endless miles of rolling green hills and splendor. The sunsets are so amazing that i
t is hard to take it all in. Being under parachute at No Limits Skydiving™, no matter the season, will be a scene you will never forget.
A Personal Touch
At many drop zones, students can be made to feel like they are being put through an assembly line. At our school customers will leave after the jump having just made new friends. After having taken thousands jumps, owner Mark Wilson has enjoyed working with a variety of different people on their first skydive, from teenagers on their 18th birthday, to a 79-year-old great grandfather's last fall. Our staff is personally involved in every jump, and is dedicated to making sure that every new skydiver has a fun and safe experience.
Comfortable Facilities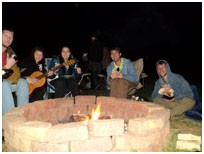 No Limits Skydiving™ just finished building a brand new hanger and student lounge area. We have the only drop zone with an air conditioned lounge for students to wait prior to their jump. Family and friends can experience the adventure as they relax in the comfortable lounge area equipped with a big screen TV to view the video of your skydive. On most Saturday nights during the summer, No Limits Skydiving also has bonfires. Those who schedule a weekend skydive can feel free to stay for Bobby's cookout and bonfire. With on-site camping available, customers are able to plan a weekend out of the event by camping out the night prior to the big jump.
Great Availability
At No Limits Skydiving, we realize people have plenty of things going on. Not everybody is free on the weekends. That is why we are open 7 days a week. We are the only drop zone in the Mid-Atlantic area that is open all week long. All you have to do is call (866) 553-2915 and tell us what day you would like to skydive. We have two locations. When you call, let us know where you are and we will schedule your tandem jump at the nearest drop zone.
A Video to Record the Entire Jump
No Limits Skydiving uses new technology to record your entire skydive. Other schools only videotape the free-fall part of the jump. We offer a video that includes it all for only $60. The getting dressed, plane ride, free fall, and most importantly, the entire parachute ride down. Our videos are 8 to 10 minutes long, whereas most other facilities usually cap at 4 minute videos. Your parachute ride is around 5 minutes and there is nothing greater than seeing a first time skydiver smile with the canopy over his or her head, knowing what he or she had just accomplished.
---
We hope you let No Limits Skydiving be a part of your first skydive. If you have any questions please call anytime at (866) 553-2915.