Choose No Limits Skydiving for Your First Jump!
So you have decided to make the big plunge..your going to sign up for your first Tandem Skydive. Tandem Skydiving is by far the safest and easiest method to make your first skydive. Tandem Skydiving was developed in the late 80's as a way to introduce people to the sport of parachuting while attached to experienced instructors. By the early 90's it had replaced almost all other methods of training and introduction into skydiving.  It has developed into a great and safe way to allow people to experience free-fall and jumping from a perfectly good airplane.
With a Tandem Skydive you are attached to a United States Parachute Association Certified Instructor. The United States Parachute Association is a organization that sets rules and regulations for all forms of skydiving. They set minimum safety standards that all drop zones and instructors must follow.  No Limits Skydiving is a member of this organization and has been since we opened our doors.
Experience Tandem Skydiving
When making a Tandem Skydive you really are able to relax and enjoy the experience knowing you are safely attached to a skydiver with thousands of jumps. At No Limits Skydiving our most junior instructor has over 5,000 skydives. One of Tandem Masters has over 14,000 jumps.  Yes….14,000.  We take thousands of people on their first skydive each year at No Limits. Most people are very nervous and we specialize in making people feel comfortable. We only take first time students so we make it our business to make sure you have a good time and can relax during your experience. This is our total business..taking people on their first jump. We make it our goal to make sure you have the best possible skydive.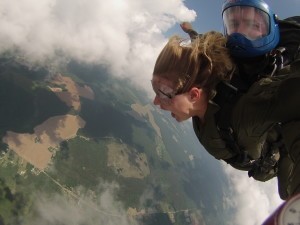 When that door opens and you and your instructor take that first step out of a perfectly good airplane, you can enjoy every second of it knowing you are in good hands. Your instructor will handle everything, all the way to landing. If you would like to pull the ripcord, let him know. We will train you to pull the ripcord to open the parachute if you would like. If you don't that is fine also, leave it to your Tandem Master and just enjoy the sensation of free-fall.
Once the parachute is deployed your Tandem Instructor will be able to talk to you like normal and show you all the different sites to see. At our West Point location you can see the Yorktown and Rapahhanock River. You also can see the Chesapeake Bay.  In Victoria they will show you the Mountains and Lake Gaston which borders VA/NC.
When you are ready to give skydiving a try make sure you choose a Tandem Skydive as your first jump. It is the safest and easiest way to enjoy the thrill that is skydiving! Please call us at anytime with any questions, and we hope to see you at No Limits Skydiving soon.