Skydiving Memories to Last a Lifetime
So you finally decided to have the adventure of a lifetime and make you first Tandem Skydive. Jumping from a perfectly good airplane is something many people think about doing, but only a small percentage actually follow thru and make that plunge. Those that do decide to make a skydive will have a lifetime experience that they will never forget.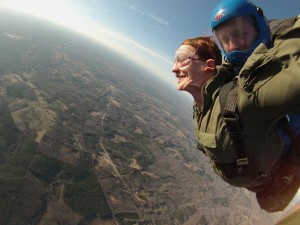 Making a Tandem Skydive in Virginia is something that you will remember for the rest of your life.  Experiences are what makes life the adventure it should be, and skydiving is on most peoples bucket list.  So make sure you make the most of it and have your skydive experience captured with pics and video.
There is so much going thru a persons mind when the door on a airplane opens up and they are preparing to jump. Most people have a type of sensory overload where it is hard to remember everything that just happened. The door is open, wind is pouring in, your instructor is telling you what to do,  ready…set…go…you out the door, flipping out the plane and upside down for a minute wheeeeeeee.  You have to get your first skydive videoed or have pictures taken.
Choose Between Pictures, Videos or Both!
When you arrive at No Limits Skydiving Office just let the manifest person know which you would like. The price for video or pictures is $60. If you would like both the price is only a additional $25. We video and take pics of your entire skydive. From the minute you climb in the plane till you land back on earth we film your dive. We use Go-Pro's to film and take pictures.
The pictures of when you first leave the plane are my favorite. Many times we can get a picture of us falling away from the plane with a big smile on our face. Makes for a great picture with the plane in the background. Another great footage of your skydive is after the parachute opens, we continue to video and take pictures.  Being under the parachute with the colors of the parachute and the person smiling is another favorite of mine. As great as the pictures are of being in free fall, the pictures under canopy are also amazing!! Many of our skydivers have posters made of their favorite skydiving picture.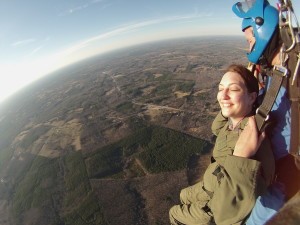 After your Tandem Skydive we return back the office to get put all the gear up and go over the skydive. We put all the footage of your jump on a flash drive and hand it to you that day.  It only takes us about 10 minutes to have your Certificate of Achievement and the flash drive containing all the footage in your hand.
We know how special your day is to you and we hope to provide you with the best experience possible, along with some great video and pictures of your Tandem Skydive in Virginia
.