No Limits Skydiving has been a part of many special skydives. We have been a part of wedding proposals, military re-enlistments, and even spreading the ashes of a loved one.
We really enjoy being a part of moments like these in peoples lives and helping them make their skydive even more special. With wedding proposals the couple will be in the plane with the person doing the asking jumping first. Their significant other will leave the airplane a minute or two later. This gives the person doing the asking time to land and place a large banner on the ground asking "Will you marry me?"  It makes for a great video when flying under parachute the person is able to read the banner. Their reaction is priceless. So far everyone asked has said yes!
We have been a part of a few military re-enlistments. The owner of No Limits Skydiving is ex-military so he really enjoys these. We had two brothers who both our in the military, in the plane together. One brother gave the re-enlistment swearing in for his younger brother. Then they both skydived attached to our instructors. How cool is it to be apart of things like this.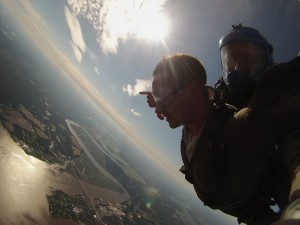 We have also spread ashes for people who have lost a love one. We take that person on a skydive and after our parachute is deployed they are able to spread their loved ones ashes while under canopy.
We do many sunset skydives. Skydiving is on most peoples bucket list and they want their jump to be as special as possible. The view at our West Point location is amazing as the sun sets. The sun lights the rivers up for an amazing view!!
Whatever your event or special occasion we hope to see you at No Limits Skydiving for your skydiving in Virginia soon.