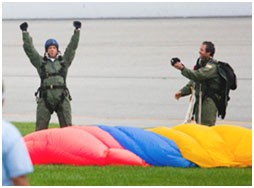 No limits Skydiving instructors brought Richmond International Raceway Track President, Doug Fritz on a Tandem Skydive for a press conference at the track. Our staff are recognized as the best in the area and are used often for special events.
In a promotion to introduce the Air Guard 400, Richmond International Raceway Track President Doug Fritz accept the challenge to go skydiving for the first time. This was no ordinary jump, Fritz made a tandem skydiving into the infield of the racetrack with the help of instructor and professional skydiver Matt Wilson. Matt is also the owner of No Limits Skydiving and makes his living helping people experience the thrill of skydiving.
This was the first time a track present has ever jumped into his own track. "I tell you what, I think it's the craziest thing I've ever done in my entire life, but hopefully we'll sell some tickets," Fritz said.