For nearly 29 years, the Special Operations Warrior Foundation has provided full college scholarship grants, not loans, along with financial aid and educational counseling to surviving children of Army, Navy, Air Force and Marine Corps special operations personnel who were killed in an operational mission or training accident. The Special Operations Warrior Foundation is proud of its ability to maintain a low overhead. In 2008, the administrative overhead was 5.8 percent – meaning 94.2 cent of every dollar goes directly to the programs of supporting special operations personnel and their families.
Bowlin and Gould decided to meld their passions for skydiving with a fund raising event for SWOF. The idea was to do the most tandem jumps in a 24-hour period. Tandem jumps are when two people jump together under a single parachute system. They are attached at four points. They exit together, freefall together and land together.
The goal was to make 150 tandem jumps in 24-hours. That would average out to one tandem jump every 9.6 minutes. This was an astounding goal that would require stamina, fast planes, quick gear changes and a mental temerity to succeed.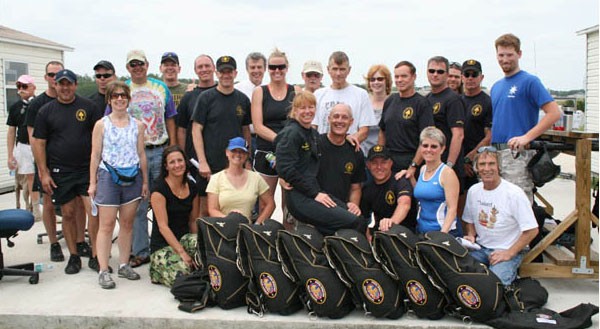 Bowlin and Gould contacted the Guinness people and learned all the rules that they must follow to claim a world record. They had to have two people present the entire time to record and monitor the event.
They next prepared the logistics. They obtained the backing of Ted Strong of Strong Enterprises. Strong Enterprises built 6 custom tandem rigs for their adventure. They contacted a public drop zone at Zepherhills, FL. Skydive City worked with them during practice jumps to work out aircraft, exit points, landing places, packing areas, support personnel, food and drinks, bathroom breaks and hundreds of gopher jobs. During the four months prior to the event they did 100 tandems as practice at Skydive City.
Jumping was to commence at 8AM, but bad weather delayed the start time until 6PM on April 14, 2009. This turned out to help the jumps done at night because they were less fatigued.
Thirty staff people helped at all times. Another 30 people volunteered their time and expertise to make the record a huge success.
The very last jump was done from 12,500 ft. They ended the 24-hour period with 103 jumps. That works out to an average of 13.98 minutes per jump. But they had some impressive 6-7 minutes turn times.