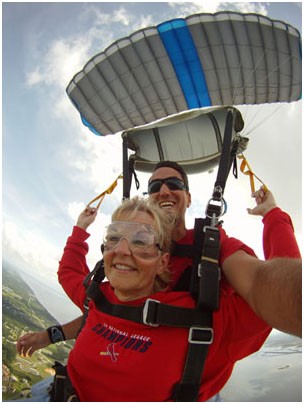 If you're reading this you are probably doing research about making your first skydive. Skydiving is fun and a great thrill but with a little advice it can be event better. Here are some tandem skydiving tips before making a tandem skydive.
Tandem Skydiving Tips: Seasons
With Virginia having all four seasons you should also think about what time of the year you want to skydive. We are open all year to take you skydiving. Each season has something different to enjoy while skydiving. In the summer time its fun to jump at west Point and watch all the boats on the river while under canopy. In the Fall time the leaves changing color are awesome at both locations. Virginia has many outdoor activities to engage in, but nothing can compare with "Skydiving in Virginia" We hope to take you skydiving soon.
Tandem Skydiving Tips: All Skydiving Schools Are Not the Same
Making a tandem skydive is a once in a lifetime adventure for most people. You want to make sure you choose the Skydiving School that best fits you. You'll probably be wonder is skydiving safe? When calling around to various drop zones you should ask is about their safety record. You should also ask about their facilities and what services they provide. With safety being everyone's top concern, make sure you choose drop zone that is an United States Parachute Association Member. Drop zones that are members of the U.S.P.A. have agreed to follow certain safety standards. No Limits Skydiving is a member of the U.S.P.A. and we have a very high safety record. Do not hesitate to ask the drop zone their safety record!
Tandem Skydiving Tips: Skydiving Location
If you are skydiving for one time in your life, choose an area that will give you a great view. We searched all over Virginia to pick our locations. Our location in West Point is over 3 rivers. You also have an amazing view of the Chesapeake Bay. People frequently ask what time of day is best to skydive. Its hard to beat a sunset skydive with the sun setting over the Yorktown River and the Chesapeake Bay on the side.
Our Victoria location has the mountains on the west and Lake Gaston to the south. In the Fall time the best view is skydiving in Victoria. There is not one man made object on the western side, just miles and miles of rolling hills. When the leaves start to change colors there is no better view than our Victoria drop zone.
Of course how far of a drive is a major concern to all customers. We have 2 locations in Virginia so we are close to every major area. West Point is close to Virginia Beach, Richmond, Hampton Roads, and Northern VA. Our Victoria school is close to Richmond, Charlottesville, Roanoke, and Lynchburg, VA. It is also very close to Raleigh, NC. Choose your favorite view for your tandem skydive.
Tandem Skydiving Tips: Skydiving Video
Everyone who makes a jump wants to remember it. There's no better way to remember your jump than to have it recorded. When the door opens things happen so fast. Wind is rushing, clouds whizzing pass you, so much going on some people can get sensory overload. You will be in the car on the way home thinking over and over how cool your skydive was. Now imagine being at home two weeks later and being able to relive your skydive over and over by watching the video. We record the entire adventure. We record you getting ready, walking to the plane, the jump and we even record you under parachute. We allow you to steer the parachute for a few minutes if you want to. The video of you steering the parachute will be something you will always want to watch. We want everyone to relive their skydive with a video, that is why we have kept our prices the lowest in the area. Every other school charges $100 for video while we charge $60. Our video captures the entire skydive by using a Handi-Cam video attached to the instructor. This way we can even record you under parachute. Other drop zones that don't use Handi-cam and only video the free fall that last a minute. Then your video ends. They can not record the parachute ride. We record everything. Make sure you get the video so you are able to relive the experience time and time again!!
Tandem Skydiving Tips: Eating Before Skydiving?
The short answer to this is yes! There is no reason to go crazy and hit the buffet at the Golden Corral but do eat something before your jump. If your hungry on the way to the airport then eat. If your not hungry, then don't eat. A light meal is fine before you skydive, but the point is, don't go crazy with a lot of food.
Tandem Skydiving Tips: Fear of Heights
This is a great reason to make a tandem skydive. Never let a fear control your actions in life, conquer your fear but skydiving. We have many students who say they have a fear of heights and are skydiving to help them control that fear. Skydiving is a little bit different though. Many skydivers can jump all day from planes but a scared to stand on the roof of a house. It is a different feeling when you are so high in the sky then being 10 feet on a ladder. I do know that many people who have a fear of heights will make a jump. It is even more of an accomplishment to skydive when you are scared of heights. Lets us help you overcome that fear by skydiving with No Limits Skydiving. Reserve your skydive by calling (866) 553-2915.