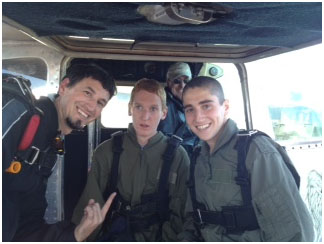 Skydiving at one time was a sport or activity for only the military or extreme athletes. On many levels it still is, but with the popularity of tandem skydiving the thrill and adrenaline of skydiving is able to be enjoyed by anyone. If you want to jump from an airplane or learn more about skydiving, read below or read about tandem skydiving.
In 2012 approximately 500,000 people all over the world made their first Tandem Skydive. With tandem skydiving an inexperienced person is attached to a very experienced skydiver who processes' a Tandem Instructor Rating. This allows people from every walk of life to jump from a perfectly good airplane. Tandem skydiving is the easiest and safest way to jump from airplane. The experience last about 27 minutes from the time you take off in the plane til you land under a tandem parachute with your instructor. The training for a tandem skydive usually takes around 15 minutes. You'll learn what is going to happen when you and your Tandem Instructor jump from the airplane. The most important job the student has is keeping his or her eyes open and enjoy the free fall. One of No Limits Skydiving Tandem Instructors, Mark Wilson, has been jumping from airplanes for over 15 years amassing thousands of jumps.
I started skydiving in the military and from the second I left the airplane I knew this is what I wanted to do with my life. I have been involved with skydiving ever since and earned my Tandem Instructor Rating in 2006. There is no better feeling then taking someone on their first Tandem Skydive. Watching them smile and being a part of their experience makes every tandem skydive a thrill for me. I hope to see everyone who wants to make a tandem skydive at No Limits Skydiving soon. Mark Wilson
A lot of people think when they jump from an airplane they will get the same feeling as a roller coaster. They expect that funny feeling in their stomach. You do not get that feeling when skydiving. You get wind, noise, a great view of the clouds but no funny feeling like a roller coaster. You'll also likely feel a lot of excitement and maybe a little anxiety. This is normal and part of the fun.
The first jump from an airplane
In 1911, Grant Morton made the first jump from an airplane in Venice Beach, CA. The type of plane he jumped from was a Wright Model B and was flown by pilot, Phil Parmalee. Morton's parachute was the type you threw out when you left the plane. Read more about this true dare devil at parachutehistory.com. Skydiving equipment and safety have advanced quite a big long way since then. Contact No Limits Skydiving at (866) 553-2915 to make your reservation to "Jump from an Airplane". Be a part of history and adventure, be a Tandem Skydiver. Before you jump from an airplane you may want to to learn is a tandem skydiving safe?.