Skydiving Near Charlottesville, VA
Our Victoria dropzone is approximately 117 miles from Charlottesville.
There isn't a skydiving dropzone in Charlottesville, VA. Fortunately, No Limits Skydiving™ is nearby and ready to make your skydiving dreams a reality and we'll save you some money. We have the lowest skydiving prices within 200 miles. Charlottesville Virginia, the home to the University Of Virginia, is also the home to people who love to skydive! No Limits Skydiving™ is an easy and very scenic drive. It'll take a little while but it'll be worth it. Tandem skydives will have you freefalling at 120 mph until your parachute deploys and you guide the canopy to the ground. If you know someone who is about to graduate from college, a skydiving gift certificate is a great graduation present. There's no better way to celebrate such an accomplishment than with a skydive.
The dropzone is located at:
634 Airport Rd, Victoria, VA 23974 Directions from Charlottesville VA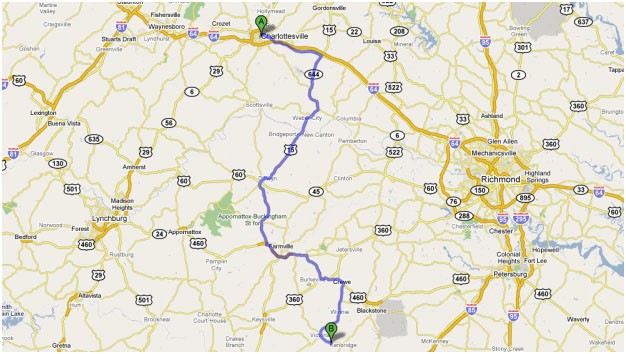 Take the ramp onto 250 Bypass/US-250
Continue to follow US-250 15.8 mi
Turn right at US-15 55.7 mi
Take the ramp to US-15 E/US-460 E 282 ft
Keep left at the fork, follow signs for Keysville/US-15 S/Petersburg/US-460 E and merge onto US-15 E/US-460 E
Continue to follow US-460 E 19.6 mi
Take the ramp onto US-360/US-460
Continue to follow US-460 5.7 mi
Turn right at The Falls Rd/VA-49
Continue to follow VA-49 15.1 mi
Continue on Main St/VA-40
Continue to follow VA-40 3.6 mi
Turn right at Airport Rd/VA-736