Tandem Skydiving Safety Precautions
This is a question we often get asked, so thought it would make a great subject to talk about. Skydiving is on the Bucket List of most people with a sense of adventure. Of course jumping from planes does carry a certain amount of risk but let me share some of the ways that No Limits Skydiving minimizes those risks. We belong to a organization called the United States Parachute Association. This is a membership of skydivers that regulates how drop zones in the United States must conduct operations. They mandate everything from how often parachutes must be inspected to who is allowed to be a Skydiving Instructor.
Here are some of the details:
All Reserve Parachutes must be inspected every 160 days. They must be inspected and repacked by a certified rigger.
All airplanes that are used for skydiving operations must go thru a complete inspection every 100 hours.
Every Skydiving Instructor must go thru a class 3 medical exam very 2 years. the same psychical that pilots must pass.
They regulate at what altitude parachutes must be deployed and what weather conditions we are allowed to parachute in.
For more information check out this great article with stats by the United States parachute Association on how safe skydiving is.
The Importance of Safety When Skydiving
Safety is a main concern of every skydiving school in the country. We all study ways to improve and make skydiving even safer. Here are some highlights of No Limits Skydiving and other ways we keep playing in the sky as safe as possible.
We only use Full Time Skydiving Instructors. This is our profession, not a weekend hobby for our instructors.
We only allow students and Tandem Skydivers to jump at our locations. Many skydiving schools have fun jumpers or licensed jumpers who have their own gear and just come out to fun jump with friends. This is fine and it is good for our sport, but No Limits Skydiving just allows Tandem Customers and First Time Skydivers. This allows us to give our FULL attention on making sure you have the time of your life!! We specialize in Tandem Skydives. If you want to be great at something, concentrate on that one field. This is what we do!
Our most junior instructor has over 5,000 jumps. Our owner has over 11,000 skydives and another instructor has 14,000 jumps.
Come Jump With Us!
We take thousands of people on their first skydive each year.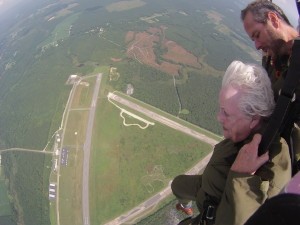 We have a 100% safety record. Yes…100%. Now as with any high risk activity we cant 100% guarantee anything, but with over 10,000 customers since opening we have never had a accident yet.
So if you are thinking of having the adventure of a lifetime please read the article in the U.S.P.A. website about skydiving safety stats and become informed. Then call us to join us on a tandem Skydive at No Limits Skydiving.