Special Event Skydiving Throughout the Country
Demonstration Skydiving or "Demo Skydiving" is where skydivers perform for a audience at special events. These events can be NASCAR Races, Professional Football Games, airshows, or any special activity.  Usually the skydivers will be asked to bring in a American Flag the Game Ball, or some other special item. Many times the skydivers will land in with smoke for special effects. Skydivers landing at a sporting event is a great way to get the crowd fired up for the start.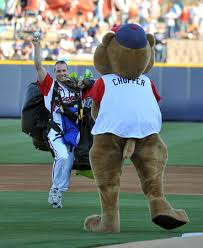 Staff members of No Limits Skydiving are asked to jump into events all over the country. The experience of our instructors is so well known that we receive calls from many sporting teams to land with the American Flag at the beginning of many sport shows. We do a lot in Virginia but we also perform at quite a few out of state. Some of the ones in Virginia we skydive into are the Richmond Flying Squirrels, University of Richmond Football Games, and the NASCAR Race in Richmond. Out of state we have jumped into the NASCAR Races in Bristol TN and in Dover DE.
Skydiving into venues such as these requires a very high level of skill. The United States Parachute Association issues a "Pro Rating" for skydivers who qualify. This rating allows them to skydive into certain size landing areas such as football fields etc. Only around 5% of skydivers reach this level. The owner of No Limits Skydiving has been a member of Aerial Adventures Demos for over 10 years.  He was a founding member of the team and has been a part of many skydiving demos. His favorite has been the skydive into L.S.U. Tiger Stadium in Baton Rouge, Louisiana when they played against VA Tech in front of 96,000 fans. He stated it was the loudest crowd he had ever heard. It is an amazing feeling to be flying into a stadium in front of 96,000 screaming fans.
Skydiving into sporting events is much more difficult then regular skydiving over an airport. There are also many regulations from the FAA you must complete before you are allowed to jump into a crowded stadium. A lot of preparation goes into one of these performances. Paperwork for the FAA, ground crew, gear inspection, and of course making sure the American Flag is clean and ready to make its appearance. When major sporting events choose which team to perform in from of their fans they of course look for which team has the most experience. It is no different then when our customers choose which skydiving school to make their Tandem Skydive with. The owner of No Limits Skydiving is ex military and has over 10,000 skydives. He is right there every day jumping with students and making sure they have the time of their life. He has also hired the most experienced staff for both our locations. Another instructor at No Limits Skydiving has over 14,000 jumps…yes… 14,000.
We hope when you decide which skydiving school in Virginia to make your Tandem Skydive with, you choose No Limits Skydiving. Go with the most experienced and the same people that major sporting events trust. Blue Skies and we hope to see you soon at No Limits Skydiving.