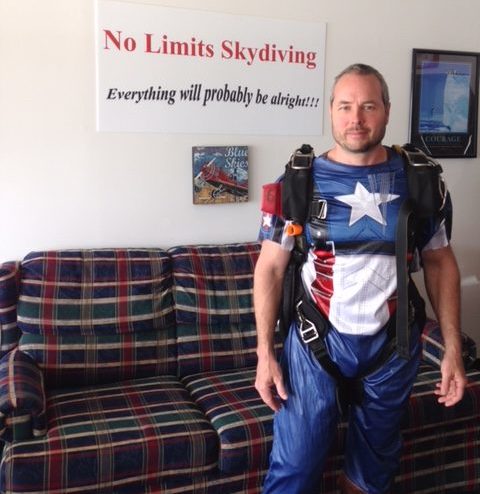 Happy New Year to all our skydiving staff, customers, and family. We had a great staff party New Years Eve night and everyone is looking forward to the start of the season. After a busy 2017 skydiving season we are enjoying a month of down time till opening day.
We are adding a couple of special items this year for our customers. Jumping from a plane does kind of make you a superhero, so we thought it's only best to dress like one. When doing a Tandem Skydive, you will now have a choice of Superhero Costumes for your jump! How cool is that? We will have Batman, Ironman, Wonder Women, and Superman. Of course Batman will be (or should be) everyone's favorite. Pick which costume you would like before your skydive!
We will of course be giving FREE popsicles to everyone that does a tandem skydive with us. They are always a favorite, and nothing beats a popsicle after a skydive ha ha.
Once again, Happy New Year to everyone. We are super excited to start skydiving in VA on opening day.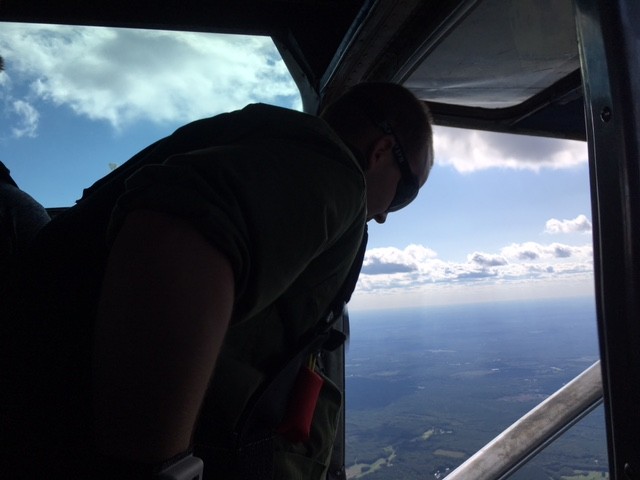 Making a reservation to skydive with No Limits Skydiving is super easy. Please do some looking around and check our reservation process compared to other skydiving dropzones in Virginia.
You have two choices on how to make your reservation with us. You can reserve online and choose the location, time, and date for your jump; or you may also call to make your reservation over the phone at (866) 553-2915. You can also decide when booking online or at our office if you want to purchase a video or picture package.
We are open 7 days a week weather permitting for skydiving. From Feb 17th thru the first Sat of December we are open. We are the only skydiving location in VA that is open 7 days a week. We understand that many people work on weekends and only have days off during the week. So we are ready to take you on the day that works best for you.
Our first jumps start at 9 AM and goes all the way thru sunset. If you are choosing the Sunset Skydive, you will be told to arrive 90 minutes before the sunset time of that day.
Skydiving reservation times are every hour. So 9:00, 10:00, 11:00, noon, etc… all the way to dark.
Plan on being here for two to three hours on weekdays and three to four hours on weekends. Weekends of course are our busiest times, with Sat being the busiest.
All of our info is online at our website, but with skydiving we realize most people have 20 questions. You can always reach someone everyday by calling us. Someone is always there to answer your questions. Yes, you will talk to a real person on the phone!
The season for tandem skydiving in VA is almost here, we open in few weeks and we are super excited to start jumping from perfectly good airplanes. Hope to see you for your skydiving adventure soon!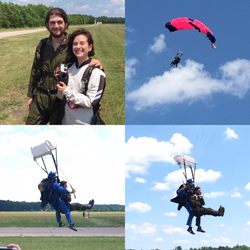 No Limits Skydiving does host some training classes to receive a United States Parachute Association Skydiving License. We have done some in the past and we are going to start doing more soon. Look for new info on our web site in the near future. The program to receive your basic skydiving license is mandated by the U.S.P.A. All skydiving schools in the United States follow the same program for you to work toward your A License.
You will have to first do two Tandem Skydives with No Limits Skydiving to be allowed into our A.F.F. Program. These tandems will be slightly different then a regular tandem. We will do more teaching on these jumps if you notify us of your desire to do A.F.F. skydive classes in the future.
Tandems are by far the best method to test the waters and make your first skydive. No matter if you are just wanting to make one jump or want to continue in the sport. Please keep an eye on our web site for more details soon.
Opening day for the 2018 season is Feb 17th. We will be open everyday, weather permitting, thru Dec 10th. Please contact us to make a reservation or click the link.
Hope to see you soon for your Skydive in VA soon at No Limits Skydiving!