West Point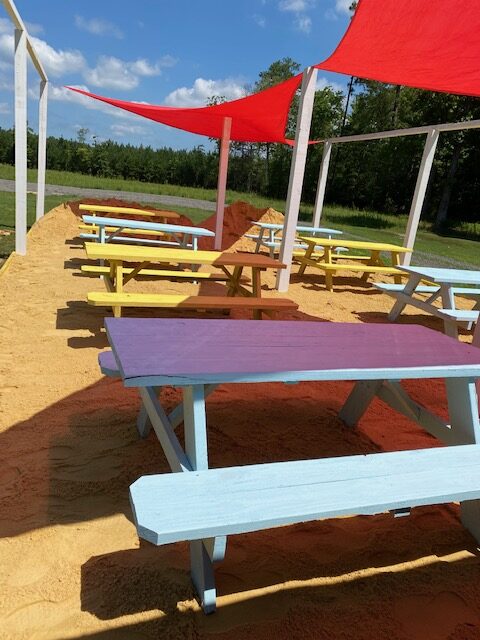 is one of the oldest locations in the country for sport parachuting. No Limits Skydiving is happy to welcome back fun jumpers for a special weekend in July. We can once again fill the skies over West Point and the York River with canopies. We hope to see old friends and make new ones as we welcome you to our event.
If you have never made a skydive at West Point, then you are in for a treat! We skydive right beside the York River with views of the Chesapeake Bay. We actually have three rivers right beside the airport. The York, Mattaponi, and the Pamunkey Rivers make for the best view in the state of Virginia. Ask anyone who has jumped here and they will tell you about the view on a sunset jump, with the sun beaming off the water.  This is a one time a year event, and only for the weekend of July 29 and 30th. Please read all the details below and call us email us with questions.
Date
July 29-30th, 2023. We will have the Sky Van there at 8:30 that Saturday. We will be jumping all day the 29th and the 30th as long as we have enough people to fill a load.
Sky Van
I'm sure most people have jumped from a Sky Van before, but it will hold 16 to 20 people per load depending on the amount of fuel in the plane. It's a tailgate plane, and it's always fun to jump out of a tailgate plane!
Location
No Limits Skydiving West Point. Our office and DZ is located about two blocks from the airport. The address is 6070 Lewis B Puller Memorial Highway, Shackelfords, VA. The whole boogie will be based out of that address, and we will have vans transport us the two blocks to the airport waiting area to load the plane. Vans will also transport you back to office after your jump and to the packing area.
Amenities
Our DZ is not a regular fun jump place since we cater to tandem jumps, but we love hosting these events once a year to share our sky with others. We will have a LARGE tent (think a wedding tent), large enough to hold all the day activities, packing, etc., and the NIGHT activities as well. We have another building for packing that has AC, so you can stay cool between jumps. We also have a large covered area with picnic tables and a volleyball court. We have three buildings at our site. One houses the office, the second is being turned into a small Snack Bar, and the last is the packing building.
Activities
Well, there is skydiving of course! At night, we will have dinner, a bonfire, and we are planning on having some dwarf lucha libre wrestling matches. Dwarf Wresting matches will take place at dark in the tent after dinner. We are going to offer a $5 bet on which wrestler will win. If your guy wins, you get a free jump on Sunday. SUNSET SKYDIVES will be strictly limited to 17 people, and we are going to make it a Carol Clay Speed Star jump. We will land in the peas on this jump, and have a toast for past skydivers who are no longer with us that used to jump at West Point. Carol of course, Benny Sherman, William Ward, Mike Christian, and many others. We might have a food truck during the day for lunch if you want to grab something to eat between jumps.
Cost
Sky Vans and Lucha Libre Wrestlers are not cheap, so registration will be $65 a person. Jump tickets will be $30 per jump and can be purchased at the DZ the day of the event. Once you registered, there will be no full refunds. If you cancel your registration at least a month out, we will refund you $30 of the $65. We are only allowing 50 people to register, so there wont be a long wait between loads. We don't want people having to sit around long before they get to jump. That means we will have enough people to fill three loads, so we can keep the props turning and no waiting for the plane. If you register, you will be keeping someone else from being able to attend, so please make sure you can make it before you sign up. If you have to cancel, please let us know at least a month out.
How to register
You can call us at 866-553-2915 or email us at [email protected]. You can call to register and pay with a credit card. A 2% fee will be added for credit card payments, or you can PayPal us at [email protected] with no added fee. This event is open to any USPA Skydiver. You can email us with your info and pay thru PayPal if you would prefer not ta call. We will be checking reserves and proof of USPA membership. Once you register, we will email you a waiver to sign and send back to us.
We really look forward to seeing everyone!. Please call us with any questions.