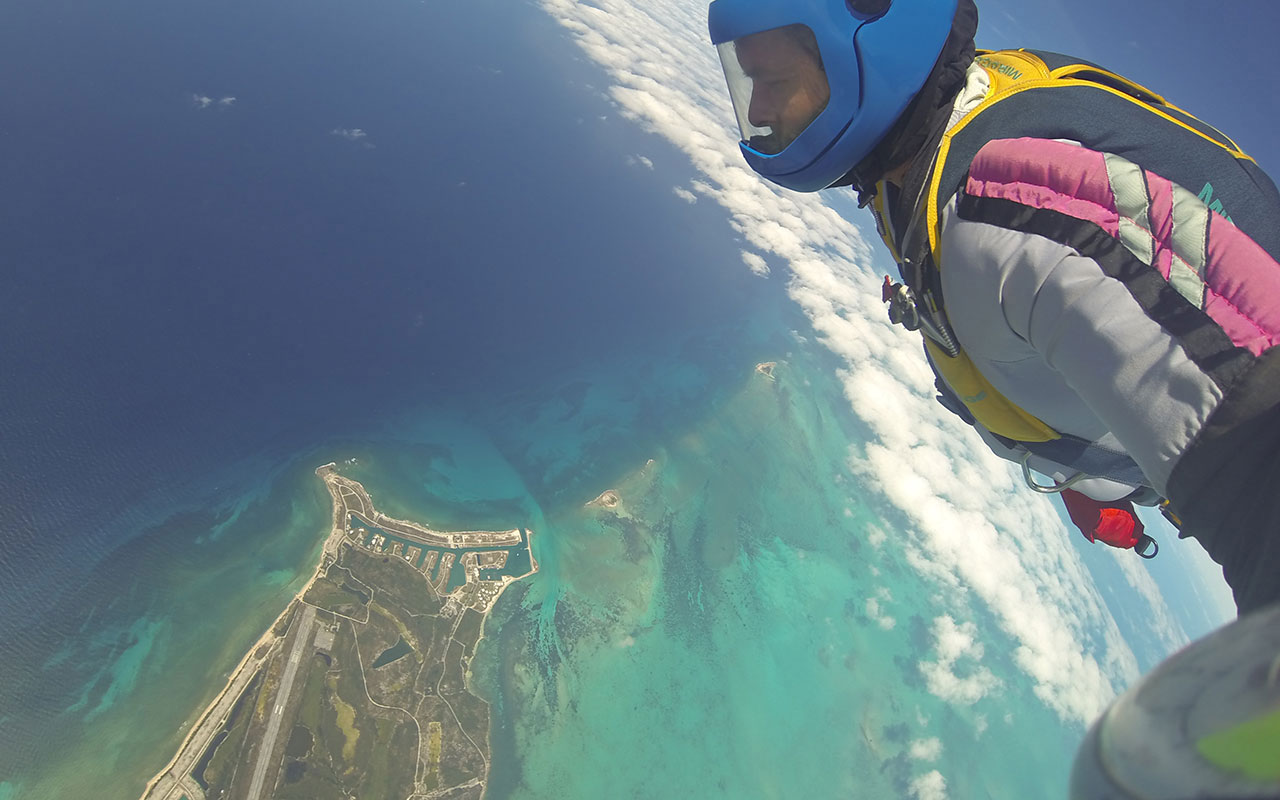 We are looking forward to having you attend our Bahamas Boogie next February! The Boogie will be from February 13th through February 19th, 2021 at the Old Bahama Bay Resort & Yacht Harbour on Grand Bahama Island.
I would like to give you a quick note about what I have planned to make sure you have the best time possible.
I have attended a boogie in the Bahamas, Kenya, and just returned from the one in the Maldives. This boogie in the Bahamas we hope will be just as fun.
The views in free-fall here will be some of the best anywhere in the world. Plus, with the Bahamas so close, you won't have to travel half way around the world to experience it. We booked an amazing resort to have drinks by the pool and the ocean. Snorkeling, scuba diving, and yoga classes are also available.
Yes, this event will cost more than the average boogie at a DZ in the states, but will cost less than most destination boogies. We have done our best to keep the rates where we hope it's affordable. Skydiving over the island of Grand Bahama will be a once in a lifetime adventure. Don't miss out. Rooms are limited and once they are all reserved then we will not accept any more registrations.
We have scheduled first-class load organizers for all styles of skydiving, as well as packers. The main thing is that we will have plenty of staff to make sure everyone has a great time. So grab your favorite people and please join us next February for the Bahamas Boogie!
– Matthew Fitch and Jeff Kent
Skydiving out of a Caravan
Yoga – classes will be provided twice a day for all registered attendees.
Beach – Enjoy the calm turquoise waters, sandy beaches, swaying hammocks, and chaise lounges.
Swimming Pool – 4,000 sq ft oceanfront infinity pool and lounge area. The perfect way to cool off while soaking up the views of the beautiful beach.
Water Sports – Complimentary beach activities include paddle boards, sea kayaks, fishing kayaks, snorkel equipment, and more!
Bicycles – Complimentary adult beach cruisers and children's bikes.
Kids' Activities – Complimentary beach toys, table tennis, pool table, volley ball, shuffleboard, pool games, crab races, an oceanfront playground, and more, .
Snorkeling – Enjoy the most beautiful snorkeling in the Bahamas just steps luxury suite or private vessel.
Table Games – Old Bahama Bay has a beach front pool table and a table tennis set as well as many board games.
Tennis Courts – The two tennis courts are located walking distance of the front office. Court time and racquets are complimentary to the hotel and marina guests. Tennis equipment can be reserved at the front desk upon request.
Basketball Court – Shoot hoops while enjoying views of the Old Bahama Bay Marina and Resort.
Lawn Games – Enjoy shuffleboard, life size chess and checkers, horseshoes and other fun games.
Volleyball – Arrange a game with your friends, or join in a resort organized tournament for beach-side volleyball.
About the yoga instructor:
From the banks of Richmond's very own James River to the banks of the Aegean Sea, Chase Adventure takes Mindfulness from the local to the global. Led by the fun, friendly, and ever-adventurous Rose, our Chase Adventure events and retreats will heighten your senses; nurture your mind, body, and soul; and totally elevate your mindfulness practice. For more details on yoga classes, teachers, and chase adventure yoga retreats, please visit us at mindfulness-bar.com.
A little bit about our world-class organizers and the events:
Kate Cooper-Jensen from P3 Skydiving
14,000+ jumps, jumping since 1978, multiple regional, state, national and world records. Competed in 2012 4-way Mondial (World meet) for Denmark (women). Founder of P3 Skydiving. FS Organizer.
Louis French from Heroes Skydiving
Come join Louis French for exciting belly skydives that will be challenging and tons of fun while taking in all the sights of the amazingly beautiful Bahamas! Louis is an FS bigway organizer, founder of Heroes Skydiving, a tunnel coach, AFF instructor, and a 4-way, 8-way, and 16-way competitor. Louis has over 9,000 FS skydives, 800+ hours of tunnel training, and holds multiple state and world records.
Luis Prinetto from Fly4Life
Lives in Deland, Florida. 20k+ jumps. Jumping continuously for 22 years. Co-founder of Fly4Life (@teamfly4life).
Carol Clay & Benny Sherman Speed Star Competition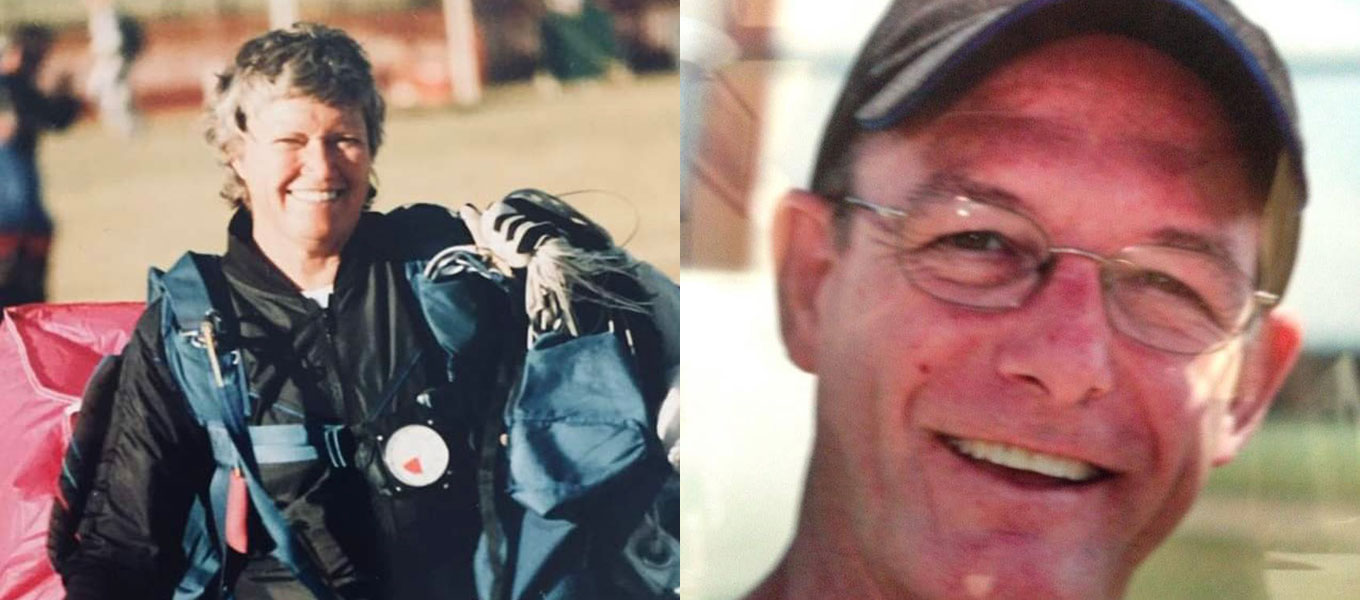 We will be having a 8-way speed star competition at the boogie. Teams will be either drawn random for people wanting to participate or you can form your own team. Prizes will be awarded to the winning team!
The registration fee is $1500 for skydivers and $900 for non-skydivers. Each room is $2000. Prices are in U.S. Dollars.
We only have 45 Cabana-style rooms available. They each have two queen-size beds, and can sleep up to four people. There are two larger rooms available that accommodate up to six people. Room reservations are first come first served. Once all the rooms are reserved, there will be NO MORE OPENINGS for the boogie, so be sure to reserve as soon as possible. Breakfast and Dinner is included in the package. We will have a DJ for four nights at the pool playing music for a late night party!
We will only allow up to 80 registered skydivers, but non-skydivers are welcome also. All skydiver registrations come with 12 jump tickets. More will be available to purchase at the event, if needed. All non-skydivers registered with the event can purchase a tandem skydive for $50, which will include a video.
All payments MUST be made in full to reserve your room and your registration. Please consider how many skydivers and non-skydivers will be attending, as well as how many rooms you (or your group) will need before calling to make your payment or sending out your check. Once your payment has been made and your slot(s) are reserved, there are NO REFUNDS, except if we cancel due to an act of God; Such as continued travel restrictions by the government due to the coronavirus, a hurricane, etc. In the event of such circumstances, you will receive a COMPLETE REFUND, besides your air travel that you purchased separately. We recommend you do not book your flight to the Bahamas until after December 1st, 2020. We have limited slots, so once you take a slot, it's yours! If you have any special requirements (for a handicap, diet, etc), please call us well in advance of the boogie to make sure we can accommodate it. If we can, additional fees may apply.
All payments must be made to No Limits Skydiving by credit card (credit cards will be charged an additional 2% processing fee), PayPal (aerialadv@aol.com), or check. Do not pay the resort. You can call (866) 553-2915 with credit card info, or mail checks to:
No Limits Skydiving
ATTN: Bahamas Boogie
PO Box 1608
Hopewell, VA 23860
Email us at nolimitsskydiving@gmail.com with all the names in your party that will be staying in your room. Complete full names. List who is a skydiver and who is registering as a non skydiver.
You can also call us with this information instead of emailing it if you prefer.
Complete payment must be made in full to confirm your slots. Payment can be made by credit card over the phone, PayPal (contact us for details), or by mailing us a check.
Please contact us with any questions.
Shuttle service will be provided free of charge from the Grand Bahama Island International Airport (FPO) to the resort.
Skydiving starts on February 14th. All skydivers will need a flotation device to participate. We will have a caravan to use for jumping. Everyone should arrive on February 13th. There will be a welcome dinner that night, along with a safety briefing and gear check. Reserves must be current, along with your skydiving license – no exceptions.