Interested in Tandem Skydiving in Va Beach?
Spending time in VA Beach? Join us for a skydive!
Va Beach is one of Virginia's biggest cities with a diverse population that includes tourist, military, and native residents. In the summer, the beach comes alive with so many outdoor activities and a huge influx of tourists. Everybody is looking for something adventurous to do and the top of that list is skydiving! No Limits Skydiving has two locations in Virginia. Our West Point Tandem Skydiving School is very close to VA Beach. We are located right off interstate 64 and a quick drive from the beach.
Offering Virginia Beach Residents a Quality Skydiving Experience
We have been the choice of people looking to make their first skydive for years. No Limits Skydiving specializes in Tandem Skydiving and first time skydivers. When you are at the beach on vacation, you don't want to spend all day going through a long process before your jump. You're looking to have a great experience and get back to vacation with your friends and family. With No Limits Skydiving all of our instructors have at least 5,000 skydives so all you have to do is relax and have fun! With Tandem Skydiving you are directly attached to our United States Parachute Association Certified Instructors. By making your skydive with an instructor guiding you for your entire skydive, all you have to do is keep your eyes open and have fun.
We Salute our Military
Virginia Beach and the surrounding area is home to many members of the US NAVY. To show our support and gratitude, we offer a military discount for active duty members. The owner of No Limits Skydiving is veteran of the US NAVY, having served on the aircraft carrier USS America (CV-66). The America was stationed in Norfolk, so the owner spent much of his off-duty time in VA Beach. He also spent much of his time skydiving in West Point, which is one of the oldest locations for skydiving in the country. He now owns the very same skydiving school that he once spent his free time making jumps out of perfectly good planes. West Point is the perfect place to make a skydive after a day at the beach. Surfing in the morning and making a sunset skydive at the end of the day- we'd say that's almost a Point Break type of day.
Skydiving Offers the Best View of the Chesapeake Bay
One of the greatest things about VA Beach is it's ocean views. Sitting on the beach just to look out over the water is a popular pastime for tourists and locals alike. However, there is one thing that will beat that view every time. The view of the water while you are under parachute is unbeatable. After a 45 second free-fall, your instructor will deploy the parachute for a 5-minute parachute ride. As exciting as the  free-fall is, the floating down under a parachute is one of beauty. At our West Point dropzone, you can see 3 rivers and the Chesapeake Bay. The Chesapeake Bay empties into the Atlantic Ocean at the beach. Our sunset skydive with the sun setting over the water is amazing! The sunset skydive is one of our more popular skydives and reservations go pretty quick, especially on Saturdays. We are open 7 days a week but of course Saturday's are our busiest. There is no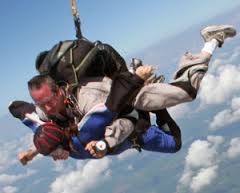 better place in Virginia or VA Beach to enjoy your Tandem Skydive. If you live or our visiting VA Beach and are looking to make a skydive, we hope you choose No Limits Skydiving. We love taking first time skydivers and watch their face light up when they take that first step out of a perfectly good airplane. Please contact us anytime if you have questions or want to make a reservation. We want to be a part of your skydive in VA beach!