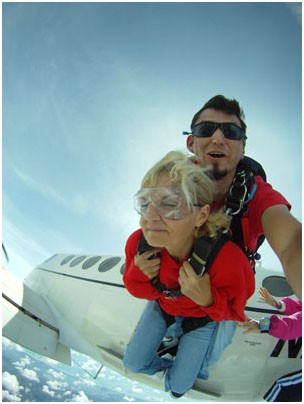 The vast majority of people making their first skydive, do so by doing a tandem skydive. Some skydiving schools allow you to do another type of first jump, called Accelerated Free Fall or A.F.F. for short.
No Limits Skydiving requires you to make a tandem skydive for your first jump. Tandem skydiving is a great adventure, but our first responsibility is your safety. Making a tandem skydive before any other type of skydiving training greatly helps anyone who wants to become a licensed skydiver.
With an A.F.F. skydive, the student must sit thru a 6 hour class where they will learn everything from how to sit in the airplane to landing the parachute. The training usually last most of the day depending on how quickly the student understands what is being taught. The student must learn many factors of their first skydive, including how to recognize a malfunctioning parachute and most importantly how to safely land. At the end of the class a student must pass a United States Parachute Association written test. Even with this training the student will not skydive alone. They will have instructors holding onto them during free fall. Once their parachute opens then the student is alone. Guiding their parachute to a safe landing.
First Skydive Experience
Most people are not wanting to become skydivers but are looking to make one skydive to see what it feels like. Tandem skydives are by far the fastest and the safest way to make your first jump. Your training for a tandem skydive is around 20 minutes. During this training we will show you everything that will take place during the skydive. Relaxing and have a great adventure is the most important part. Yes… RELAX!! You are attached to a certified instructor with thousands of skydives. They will take care and guide you thru the entire skydive.
When walking to the open door of an airplane, you never know how a person will respond. The majority of first time skydivers do a great job. They are smiling, laughing and their eyes are big as saucers as they take it all in. There are times when students close their eyes the whole time and pretend they are at home on the couch and not in free fall. It is for this reason that No Limits Skydiving requires all students to make a tandem skydive on their first skydive. We want to see how you react before allowing you to advance further. Even if you make your first jump somewhere else, make your first jump a tandem skydive. Knowing you are with a highly trained instructor allows you to relax and take more of the skydive in. It's important to get acquainted with the sensation of free fall and jumping from a perfectly good airplane. It will greatly help your learning curve. When under parachute the instructor can give you first hand knowledge on steering a parachute and landing. This is an experience that you could never receive by sitting in the classroom. A tandem skydive is by far the safest, and easiest way to learn how to skydive.
No matter if you are making only one skydive or you want to earn your skydiving license. Tandem skydiving is the preferred method to make your first skydive. It is safer and has a much better learning curve than A.F.F. skydiving. Contact us today at (866) 553-2915 if you have any questions or to schedule your tandem skydive.